Best Eye Hospital for Cataract Surgery
Cataract & Refractive
A Cataract is an eye disease where the lenses of the eyes are covered with cloud-like developments. The main reason for Cataract development is the breakdown of protein in the eyes.
The condition is quite normal as age progresses. People over 60 are highly susceptible to cataracts. Untreated eye conditions can lead to blindness as the victim finds no clue to see the objects clearly. The disturbed vision due to a cloudy lens affects daily life. The vision loss is temporary or permanent, depending on the timely treatment taken. In most cases, the vision lost due to cataracts is highly reversible. Cataract Eye Surgery is the treatment choice to restore clear vision.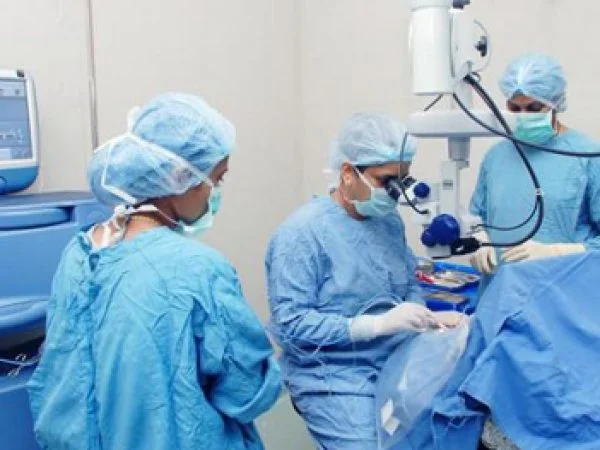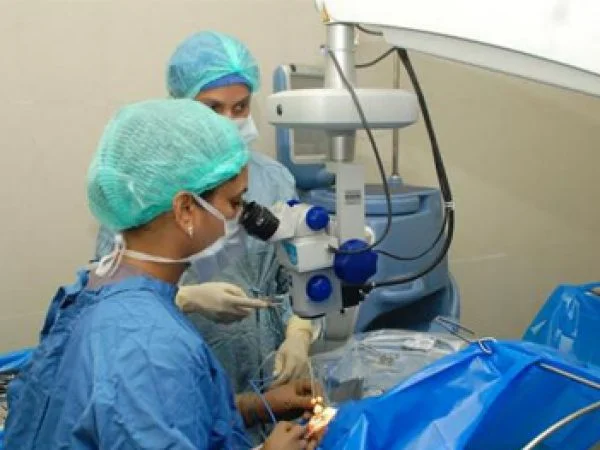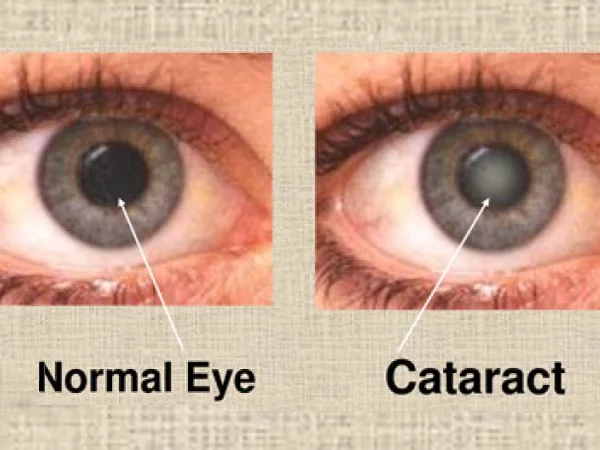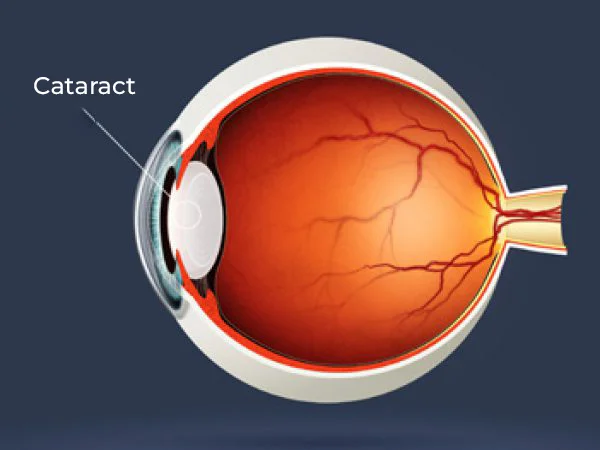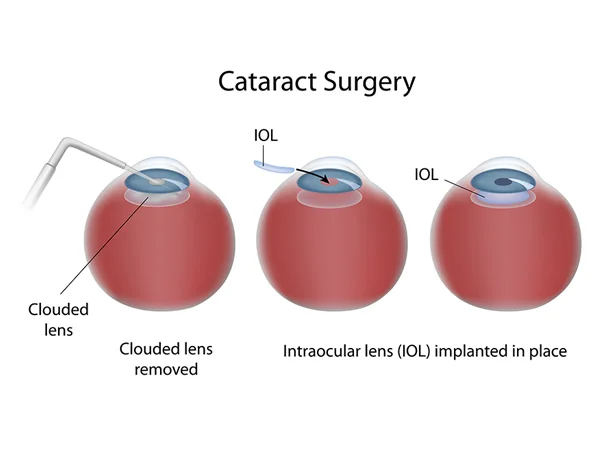 Types of Cataracts
Based on the affection rate and formation shape, the Cataracts are classified into the following categories
Nuclear Cataracts
It is a condition where the Cataract is developed at the center of the lens. People with nuclear cataracts find it difficult and challenging to see objects in detail. This is the condition that most people are affected by. The progression makes people see with unclear vision, such as halos, unable to look at bright objects, and much more. People with nuclear cataracts might find a way to see, but the advancement worsens the condition. Cataract Removal Surgery is the best treatment choice to overcome troubles and eye illnesses.
Cortical Cataracts
It is an eye disease where Cataracts are observed on the edges of the eye lens. The progression happens from the edges to the center of the eyes. People with Cortical Cataracts find it challenging to see objects that are near and far. The early stage of this condition does not influence vision health, but the growth stage exhibits its impacts through scattered light. In addition to troubled vision, the further development of Cortical Cataracts deteriorates eye health, leading to complete blurry vision.
Posterior Subcapsular Cataracts
The cataracts are developed on the inside of the eye lens. Compared to other Cataract-related Eye disease, posterior subcapsular cataracts have a higher progression rate. Hence, early symptoms of the Eye disease can be observed. The location of the cataract significantly influences the signals that are sent to the brain for processing. The advancement of this eye condition makes it difficult to see, and daily life is greatly affected.
Congenital Cataracts
It is a condition where cataracts have been observed since a baby was born. Congenital Cataracts are due to family history or genes. This eye condition is classified based on its occurrence, irrespective of the position or shape of the Cataract. As the eye condition is seen in the newborn baby, Eye Surgery is recommended to help the baby have clear vision, nurture their hand-eye coordination, and learn without any hindrance or trouble.
Traumatic Cataracts
In some cases, eye injuries promote the development of cataracts. The cause and effect of a traumatic cataract can be observed within a short time once met with an accident or injury. This is a rare condition, and it depends on the severity of the injury.
Secondary Cataracts
The intake of drugs and medication advances the development of Cataracts. People with other illnesses, such as diabetes, are highly prone to contracting Cataracts.
Radiation Cataracts
People who spend most of their time in the outfield and are exposed to sunlight have a higher chance of contracting cataracts. This eye condition is due to higher exposure to UV light radiation. Also, it is commonly observed in cancer patients due to their radiation treatment.
Causes
People above 60
Higher exposure to sunlight
Eye Injuries
Medication and other associated illnesses
When to Consult a Cataract Eye Specialist
Symptoms
Blurry and foggy vision
Fading of colours
Sensitive to bright light
Difficulty driving at night
Double vision
How Cataracts are Diagnosed in Trinity Eye Hospital
Diagnosis
A Comprehensive Cataract Eye Examination significantly aids in the efficient and precise diagnosis of the eye condition. The diagnostic procedures influence the Eye Specialist to determine the choice of Eye Treatment that is recommended for the patient suffering from Cataracts. Here are some of the most commonly performed Cataract Eye Diagnosis procedures at Trinity Super Speciality Eye Hospital.
Visual Acuity Test
This is the first level of the cataract eye screening test. In simple words, the diagnostic procedure is named "Eye Chart Examination." The procedure involves having the patient see the letters that are placed a few distances apart. It is followed by both eyes. The affection rate of Cataracts is determined by how much the vision is.
Retinal Exam
It is a diagnostic procedure performed to Examine the Eyes in detail. Eye drops are used to enlarge the pupil for Cataract Eye Examination, occurrence, and stage of progression. The retinal examination provides precise results about the presence of Cataracts and their type.
Slit Lamp Examination
This procedure involves the diagnosis of a high-intensity light that passes onto the affected eye. Slit lamp examination lets the eye specialist diagnose the minor and major advancements of Cataracts.
Types of Artificial Lenses Available at Trinity
MICS
MICS is the latest surgical procedure to perform Cataract Eye Surgery by making an incision less than 2 mm. MICS is an advanced procedure of phacoemulsification. The recovery period is very short, the pain is comparatively little, and the foldable lens can be implanted within a small incision.
Intra-Ocular Lenses (IOLs)
IOLs are the artificial lenses that are used to replace the clouded lenses. This Cataract Removal Surgery procedure has the restriction that the patient can have clear vision when the object is sighted from the specified distance. IOLs are available in rigid and foldable forms. When Eye Surgery is done with the assistance of intraocular lenses, the patient relies on eyeglasses to read and carry out other activities.
Multifocal IOL
Multifocal IOLs provide greater benefit compared to IOLs in terms of allowing patients to sight the objects that are placed at a nominal distance and can sight the objects that are positioned near the eyes. Therefore, the need for spectacles is less for people choosing Multifocal Lense during Cataract Eye Surgery. People driving their vehicles at night frequently are not an ideal candidate for implanting multifocal IOLs.
Toric IOLs
Toric IOLs are highly recommended for patients suffering from astigmatism, an eye condition. These lenses provide significant advantages to people in sighting objects without deficiencies or errors. Hence, Toric IOLs enable higher patient satisfaction compared to other lenses when implanted in people's eyes with astigmatism conditions.
Cataract Eye Treatment at Trinity
Our Eye Hospital has an exclusive infrastructure to provide Cataract Treatment. The department is equipped with two top platforms for Cataract Surgery: "Centurion" (the only intelligent phaco platform that dynamically optimizes cataract removal). Our Ophthalmology Surgeons have vast experience and are qualified to perform Eye Surgeries using Zeiss Lumera Microscope machines, which are significantly preferred to perform Micro-Coaxial Cataract Surgery (MICS) and to remove the cataract by making a 2mm incision to implant foldable intraocular lenses (IOLs).
We provide our patients with Cataract Treatment options such as the latest in IOL technology, including the accommodative Crystalens HD, the ReSTOR and Tecnis multifocal IOLs, and the astigmatism-correcting Toric IOLs. Multifocal IOLs, Symfony Multifocal with astigmatism correction, and the implantable collamer lens are available at Trinity for correcting refractive errors. Our Eye Doctors practice optical biometry lensing to eliminate the development of calculation errors that typically occur in implanted IOLs.
What to Expect Before the Cataract Surgery
At Trinity, our Eye Specialist performs an ultrasound test to determine the shape of the eyes, which varies with the individual. Hence, personalized IOLs are highly preferred to ensure the effectiveness of Cataract Eye Surgery. Based on the patient's preferences and daily living, our ophthalmologists recommend the IOLs that benefit them with clear vision. We pay special attention and take extra care in selecting the best IOLs to eliminate the chances of an unfit lens and eye, which leads to unclear vision.
What to Expect During the Cataract Surgery
The procedure involves the dilation of the pupil, and the Cataract Eye is numbed using eye drops, which help in reducing the pain during the procedure. A small incision is made to remove the cataract-affected lens, and it is replaced with an artificial lens.
The cloudy lens can either be removed as a whole or extracted from the broken pieces. Cataract Extraction Surgery is highly recommended for patients with severe complications. In most cases, phacoemulsification is a highly practiced procedure to remove cataracts. The incision made in the eyes is stitched to heal. Our Super Speciality Eye Hospital has advanced equipment to perform surgery that results in a higher success rate and highly efficient Cataract Eye Operation.
What to Expect After the Cataract Operation
The expected outcome is clear vision, free from blur. Within a few days after surgery, the eyes will be healed completely. The patient is recommended for a routine checkup after Cataract Eye Operation to monitor the health of the eye. The replacement of a new lens helps the patient see the objects in their original dimension of true color. We recommend wearing glasses for a few days to protect the eyes from infection and other pollution. Cataract Eye Surgery allows people of elderly age to regain their clear vision. Within a few days, the patient can follow their routine without any restrictions.
Cataract Eye Operation Performed in Our Branches
Trinity has five major branches incorporated with operation theaters to perform Cataract Eye Operations. Our Eye Surgeons have hands-on experience performing Cataract Surgery on people with critical conditions and other associated illnesses. Our Eye Hospital in Coimbatore, Palakkad, Kozhikode (Calicut), Tirur, and Thrissur has a cumulative record of performing successful surgeries. We have partnered with renowned health insurance providers, which aid people in availing themselves of a Cataract Operation at an affordable treatment cost.
FAQ
Symptoms When can one undergo Cataract Surgery?
Painless Blurring of Vision which is progressive
Glare, especially while driving in the night
Double Vision
Near Vision appears better than before but distant vision is blurred
Whenever the cataract affects your daily activities like reading, driving and working, it should be considered. Early on, a change in glass power may help. Later on, Surgery is the only treatment for cataract. DO NOT WAIT FOR THE CATARACT TO MATURE.
Who is highly prone to contracting Cataracts?
People over the age of 60 are highly prone to developing Cataracts.
Do I develop Cataracts in both eyes?
Yes, you do! There are high chances of contracting Cataracts in both eyes. It can be experienced in one eye and later, after some years, in the other eye.
Can I have cataract surgery on both eyes simultaneously?
At Trinity, our Eye Surgeons are specialized in performing surgeries on both eyes at the same time. The choice of undergoing Cataract Surgery greatly depends on your preferences.
What are the procedures for Eye Check-ups followed at Trinity?
Our expert team dilates your eyes to perform a comprehensive Cataract Eye Examination. The health of the vision and the stage of Cataract progression are examined to Schedule an Appointment date for Surgery.
Can I go home on the same day of Surgery?
Yes, you can. It is an outpatient procedure and takes around 15 to 20 minutes. After the Cataract Eye is operated on, you're monitored for a few hours. It is done to make sure that the you're completely okay to return home.
Should I take special care of the Eye after Cataract Surgery?
Yes. Our Eye Specialists advise you to abide by their instructions. Based on your overall health condition, medicines are prescribed. It is much needed to take special care to protect your eyes from uncertainties.
Do I need somebody to accompany me after the surgery?
Yes. Because, after the surgery, you might have blurry vision for a few hours to days. It is challenging for you to make a way out or travel from our Eye Hospital. Having someone with you can help ensure a safe return.
Are there any routine checkups?
Yes. Our Eye Doctor plans for a routine checkup to examine the progression of healthy vision. If any eye problems are encountered, it allows our doctor to stabilize the condition.
When is the right time to undergo Cataract Surgery on the other eye?
Sooner you recover from the surgery, our Ophthalmologists examine your eyes and test your health to make sure you're fit to undergo surgery on the other eye.
Can I resume my routine immediately after the surgery?
We suggest you take some rest for a few hours. If there is an emergency situation, you can resume your routine. Please make sure you are fit and do not strain to carry out your daily work.
Where are the branches of Trinity located?
We have our Eye Hospital branches functioning in Coimbatore, Palakkad, Kozhikode (Calicut), Tirur, and Thrissur, where people can undergo cataract surgery.